Maple Leaf Village Offices
Maple Leaf Village Amusement Park was rather unique in that it didn't actually have an office building on site. Instead, the offices were housed in old railroad cars. There were 2, 6 axle heavyweight passenger cars on the property, and 3, 40' boxcars. All but the blue rail car, which is now located at a private residence in Stevensville, Ontario, were scrapped on site to make way for the new Casino in 1993/94.
These photos were all taken after the park closed in its final season.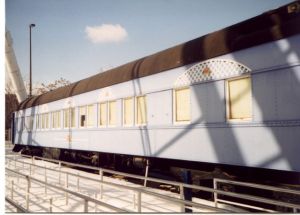 The General Managers office and security were housed in this car, located at the base of the Giant Wheel. This car, known as the Blue Railcar, was originally a Sleeping car, and was on the Penn Central Railway as a work car until going to the park in the mid 80's. (ex-PC 28102)
(Photo by Ken Jones Jr.)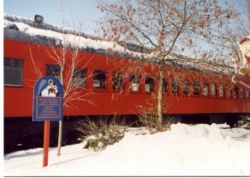 The Orange Railcar held the Administration offices, first aid, public relations and information for the park. This car was originally CP coach 1308 (built by National Steel Car/CP, in 6/1929). It later became CP Rules Instruction Car 46, and spent its final years at Maple Leaf Village.
(Photo by Ken Jones Jr.
History of the Rail Cars
Coach, ex-Conkin Shows, exx-CP Rules Instruction Car 46, nee CP coach 1308 (NSC/CP, 6/1929)
Box Car, ex-CN 424152, exx-CN 475391 (NSC, 1938)
Box Car, ex-CN 424514, exx-CN 476953 (NSC, 1939)
Box Car, ex-CN??
Sleeper, ex-PC 28102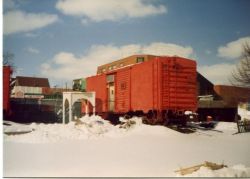 The time office, where employees started and ended thier day was held in one of 3 ex-CN boxcars.
(Photo by Ken Jones Jr.)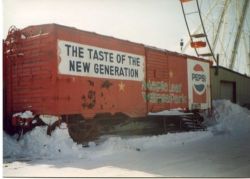 This car was used for storage of the larger prizes for the games. In the early days, all the cars advertised a product in the park, this one featured Pepsi.
(Photo by Ken Jones Jr.>