Tivoli Miniature World
Tivoli Miniature World was originally located next door to Wet and Wild at Prudhomme's Landing in Jordan Ontario. Featuring miniature landmarks from around the world, one could see the Eiffel Tower, Taj Mahal, Mount Rushmore, and many more famous sites, without even leaving Ontario (unlike Canadia, which only covered Canadian monuments). There was also a small train which encircled the property, which allowed you to take a tour of the grounds and see the sights, while sitting. Miniature World's slogan was "have big fun at Miniature World".

Miniature World closed at Prudhomme's Landing in the early 1990's and relocated to the corner of Ferry St. & Victoria Ave in Niagara Falls. While the owners hoped to cash in on the bustling Niagara Falls Tourist trade, this never really happened, and Tivoli Miniature World closed after only a couple years. The attractions were packed up, and sent overseas, except for the train and track, which were purchased by a local campground.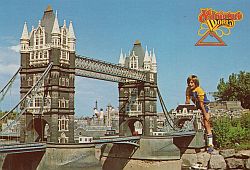 Some of the later postcards had the actual Miniature World logo, like this shot of London Bridge.
(John Burtniak Collection)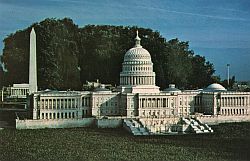 No miniature display would be complete without the US White House.
(John Burtniak Collection)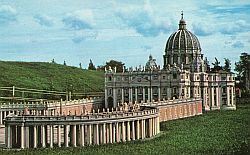 St. Peter's Basilica at The Vatican was one of the many structures represented.
(John Burtniak Collection)
Rome Italy's Colosseum was a grand structure in real life, and was just as large in model form.
(John Burtniak Collection)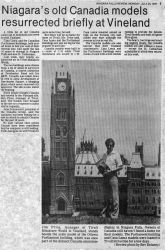 This article came out of the Niagara Falls Review, and talked about a few of the old buildings from Canadia City in Niagara Falls which were briefly displayed at Tivoli. (Niagara Falls Ontario Library)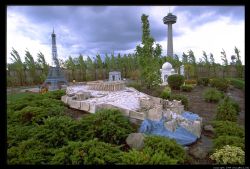 The miniature version of the Acropolis with the mini Eiffel Tower at left, and the real Skylon Tower in the background. (Photo by Philip Greenspun)
Mount Rushmore was recreated in perfect detail for the Miniature World Display. (Photo by Philip Greenspun)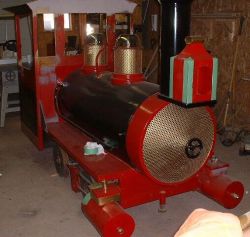 The Miniature World train now resides at a campground in Niagara Falls. This shot shows the locomotive undergoing cosmetic repairs before being placed on display in the playgound area. The train was powered by a 4 cylinder Chevy gas engine, but has long since been removed.
(APHAN Collection)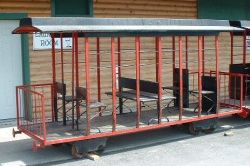 The Miniature World train had 4 closed in coaches. Here is one of the cars, being cosmetically repaired at the campground where it now resides.
(APHAN Collection)