Canadia
The following description was taken off the postcards. --- The world's largest Miniaturama is an eleven acre "Photographer's Paradise" where you can spend minutes or hours examining hundreds of authentic models depicting Canada yesterday and today. "Instant Canada" -- people call Canadia, as they enjoy a picnic on the wide sweeping lawns overlooking this wonder-world. Eight acres of free parking, an amply stocked gift shop, snack bar, souvenir kiosk, immaculate washrooms -- and the world's largest minature golf course await your pleasure.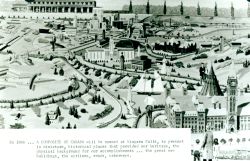 In 1966...A composite of Canada will be opened at Niagara Falls to present in miniature, historical places that provided our heritage, the physical background for our accomplishments...The great new buildings, the airlines, roads, waterways.
(Niagara Falls Ontario Library)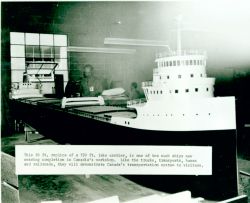 This 30ft replica of a 720ft lake carrier, is one of two such ships nearing completion is Canadia's work shop. Like the trucks, tranports, buses, and railroads, they will demonstrate Canada's transportation system to visitors.
(Niagara Falls Ontario Library)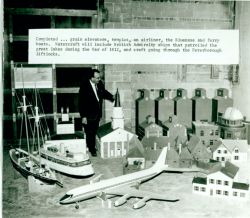 Completed...Grain elevators, temples, and airliner, the Bluenose and ferry boats. Watercraft will include British Admiralty ships that patrolled the Great Lakes during the War of 1812, and craft going through the Peterborough Liftlocks.
(Niagara Falls Ontario Library)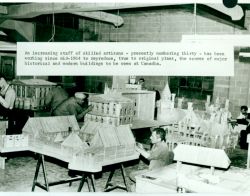 An in creasing staff of skilled artisans - presently numbering 30 - has been working since mid-1964 to reproduce , true to original plans, the scores of major historical and modern buildings to be seen at Canadia.
(Niagara Falls Ontario Library)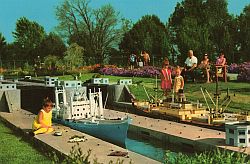 This postcard view shows kids and families looking at the immaculate models of the ships in the mock up of the Welland Canal Locks.
(APHAN Collection)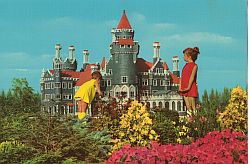 2 of the same children used in the postcard above were also used in this shot taken in front of the model of Casa Loma
(APHAN Collection)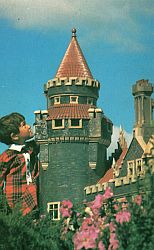 A closeup view of the model of Casa Loma
(APHAN Collection)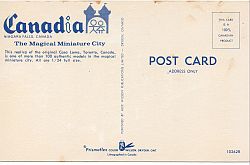 The reverse side of the above Casa Loma postcard.
(APHAN Collection)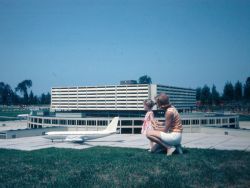 Leah and Susan Parker look over the Toronto Airport.
(Lex Parker)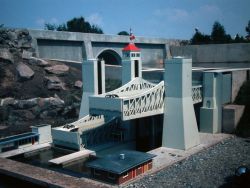 The lift locks in Peterborough were also represented.
(Lex Parker)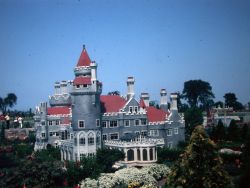 Casa Loma in Toronto.
(Lex Parker)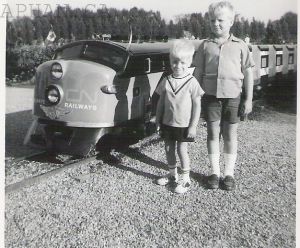 Mike Csele sent over this shot of him and his brother Mark in front of the locomotive of the park train.
(Mike Csele)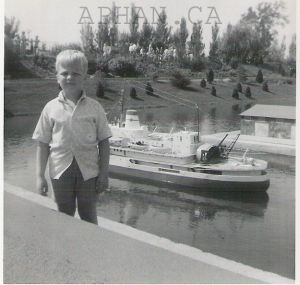 Mike Csele with the boats and harbout behind him.
(Mike Csele)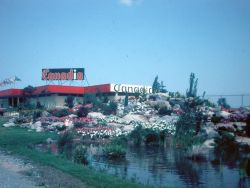 The front entrance to Canadia.
(Lex Parker)
While Canadia was not actually an amusement park, it, much like Tivoli Miniature World, is included here because it is one of Niagara's little known attractions, and, because I grew up around the ruins, and was one of the kids who constantly rode my bike through what was left.
Canadia opened for Canada's Centennial in 1967. Located on Dorchester Rd, near the Hwy 420/QEW interchange, it featured buildings and sites from across Canada. Canadia was modelled in 1:24 scale, and everything was custom built. Canadia also had a model railway operating through the entire grounds, an operating set of Welland Canal flight locks, and beautifully landscaped gardens. At some point there was also a park train that was set up to tour people around the perimeter of the site. Unfortunately, as nice as the attraction was, it was taken down in 1970 and placed into storage. It is unknown at this time what ever happened to the buildings from Canadia City. Some of the attractions were briefly displayed at Tivoli Miniature World (see newspaper article in that section) near Jordan. Remnants of the park made it into the late 80's, and the site was a hangout for kids riding thier BMX bikes through the trails. What used to be the attraction, is now home to a high rise, condos, and homes.
Peter Zimmermans father was one of the model builders for Canadia. Peter recently contacted me with this information, and has passed along some great photos. He writes, "I know the model locomotives very well, as many of them were constructed in the basement of my childhood home. My father did the machining, and I too helped with what I could. Peter sent along a photo of the boxcar in his collection. I thank Peter for sending this information along to me.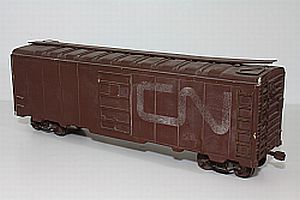 One of the original vacuum molded boxcars used at Canadia. Thanks to Peter Zimmerman for sending this photo over.
(Peter Zimmerman collection)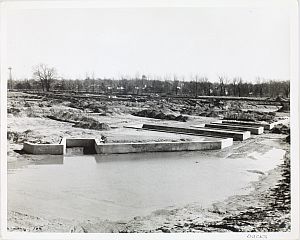 The port and dock area under construction.
(Peter Zimmerman collection)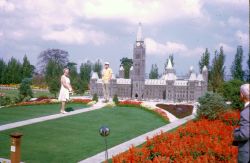 The Canadian Parliament Buildings in Ottawa in miniature. This colour shot, taken by some vacationers, shows the detail of the buildings, and the excellent landscaping that went with Canadia.
(Niagara Falls Ontario Library)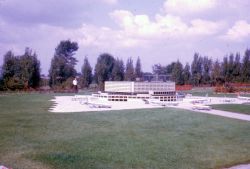 Canadia also featured a model of the Toronto International Airport, including various types of airliners, from different airlines.
(Niagara Falls Ontario Library)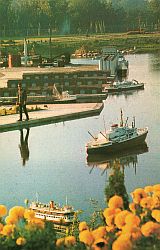 Ice Breakers, tall ships, and ocean vessels float around the harbour.
(APHAN Collection)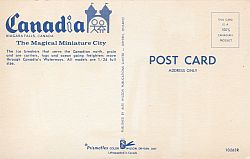 The back side of the above postcard with the full scene description and Canadia logo.
(APHAN Collection)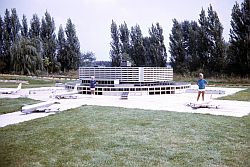 IN 1968, Guy Lafond and his family took a trip to Niagara Falls and visited Canadia. Guy and his brother are shown here in front of the model of Toronto International Airport.
(Guy Lafond Collection)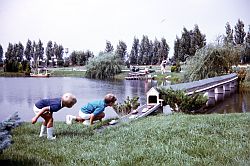 Guy and his brother are looking through the model of the longest covered bridge in the world. The real bridge is located in hartland New Brunswick.
(Guy lafond Collection)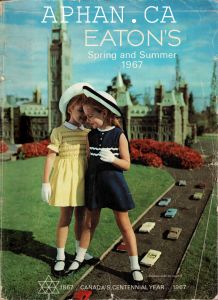 The cover of the 1967 Eatons catalogue featured the new attraction called Canadia here in Niagara Falls.
(Mike Csele Collection)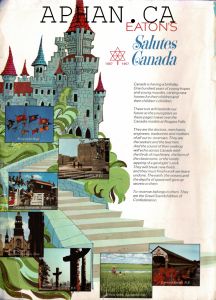 Inside the 1967 Eatons catalogue talked about Canadia and some other popular attractions across Canada.
(Mike Csele Collection)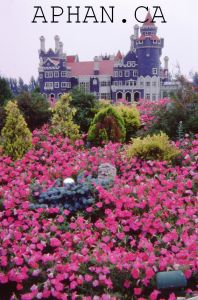 Casa Loma in Toronto shown behind the manicured flower beds.
(APHAN collection)
The following 6 photos were submitted to me by Dan Aniszewski from North Versailles Pennsylvania. These were taken on a family trip to Niagara Falls in 1968 when Dan was 4 years old. He is seen in the photos. My thanks to Dan for sending these shots across to me for use on the site.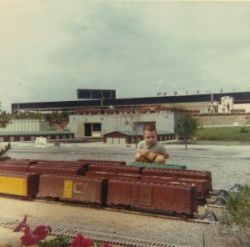 Dan is seen here looking at some of the 1:24 scale boxcars in one of the storage yards. This view is looking west, towards the front of the property, and the back of the entrance building. Of note in this photo is that many of the railcars are actually not on the track. Because of the design of Canadia people were able to get up close to everything, the buildings, cars, boats, planes, and trains.
(Dan Aniszewski collection)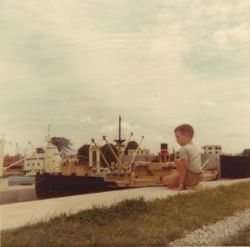 Canadia also featured an operating replica of the Welland Canal flight locks. Some of the ships were upwards of 15ft in length.
(Dan Aniszewski collection)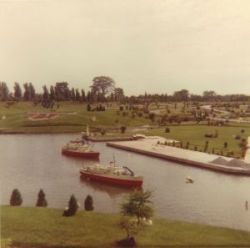 This shot shows the harbour with a couple of the ships floating around, and in the background can be seen quite a bit of the well manicured grounds.
(Dan Aniszewski collection)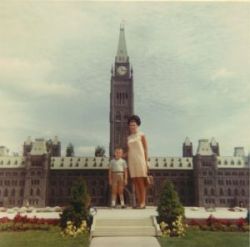 Dan and his mother are shown infront of the model of the Parliament Buildings. This is a good example of the size of the buildings constructed for this unique attraction.
(Dan Aniszewski collection)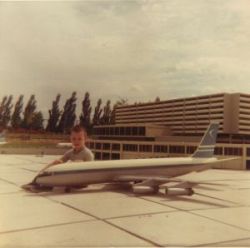 The jets built for the model of Toronto International Airport were 4-5ft in length.
(Dan Aniszewski collection)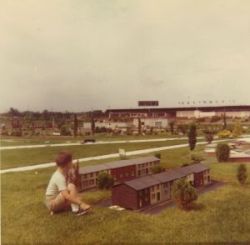 Canadia had everything, including this row of townhouses.
(Dan Aniszewski collection)
Pictures below donated by David Klimek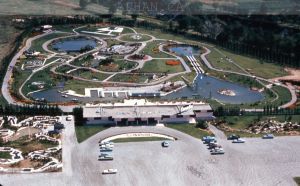 One of the store bought, Canadia produced slides showing the entire layout of Canadia.
(APHAN collection)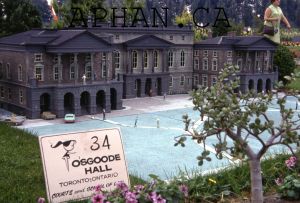 Osgoode Hall Law School in Toronto.
(APHAN collection)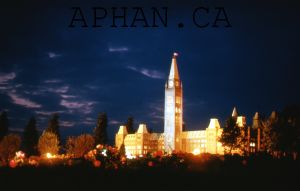 Canadia produced a few night images including this one of the Parliament Buildings in Ottawa.
(APHAN collection)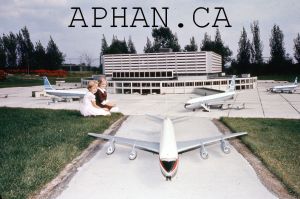 Toronto Airport.
(APHAN collection)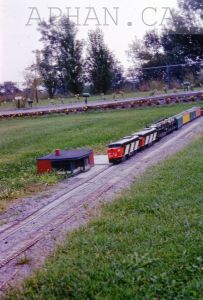 One of the CN freight trains in the extensive railway passes a station.
(APHAN collection)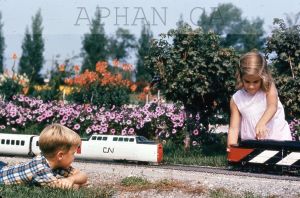 2 young visitors watch as a CN Turbotrain and a freight run by.
(APHAN collection)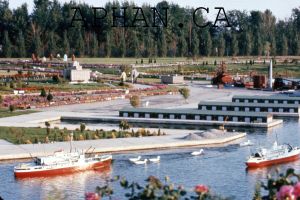 Overlooking the Lakehead with a large railway in the background, and a good look at the beautiful landscaping..
(APHAN collection)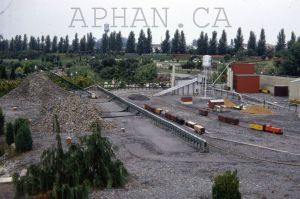 The large model of a papermill. The water tower for Brights Wines can be seen in the background.
(APHAN collection)