Maple Leaf Village Amusement Park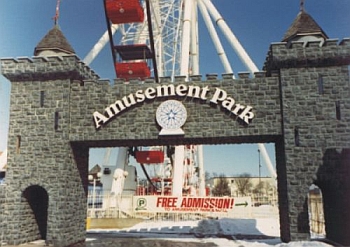 In The Beginning
Maple Leaf Village, which opened in 1979, was an attraction which had a large shopping mall, with various types of attractions, many focusing on kids. The mall had many different stores and attractions as well. There was an old time photo shop, a candy store , Ripley's Believe it Or Not Museum (where you could talk to a "Genie in a bottle"), the Elvis Presley Museum, and numerous different souvenir stores. There were also attractions for kids, including a large play area that had a ball crawl, rope climbs, etc. In later years, there was a laser game, where players went though 4 chambers, shooting at aliens behind glass walls as they lit up. Points were scored for how many you hit, and you would see how well you did at the end of the game. Lilly Langtrees Theatre housed live shows, and near the end of the mall, featured a magician. A 50's nightclub called Shaboom's featured music from the 50's, along with great food and a couple classic cars. Robert Gibbs, who once operated the haunted house at Wet 'n' Wild had the Nightmares haunted house attraction inside the Mall. The second floor had a large food court (where most of the Park workers could be found when not at their rides) that had food for all tastes.
The amusement park outside, which featured the largest Ferris Wheel in the Western Hemisphere, was operated by Conklin & Garrett Shows in the early years.
The Rides
Because the park was operated by C&G, the rides often changed from year to year. We do know they had at different times, a Rotor and an Enterprise, which were not there towards the end of the 80's. The last years saw a decent assortment of rides in the park. Uniforms in the early days consisted of plaid shirts and denim overalls with matching caps.
Park ownership eventually went to York Hanover Hotels, owners of the Brock Plaza, Foxhead, and Village Inn. The final 4 yrs of the park saw many improvements, but in the end, YH was bankrupt, and looking to raise money for the creditors. The park was the casualty of the bankruptcy. The final year, the park did very well. Unfortunately, it wasn't enough, and at the end of the 1992 season the rides were packed up and sold. The Giant Wheel was sold for $560,000.00, and went somewhere in Asia. The final auction at the park saw many people, including 7 of the former workers, looking for some trinkets from their time there. (yes, I was one of them) The mall was purchased by local businessmen, and was pretty much empty at the time it was converted into the Cities first Casino. When the Casino was constructed, much of the interior was altered to the point where you can't even identify where things were. Even the stairs and escalators were changed.
Maple Leaf Village Giant Wheel
Maple Leaf Village Chance Turbo
Maple Leaf Village Park Brochures
Maple Leaf Village Park artifacts and souvenirs
Complete list of the rides that were in the park at the end of the final season:
"Wet Boat Ride" - Allen Herschel(Kiddie) (Purchased from Crystal Beach)
"Bumper Cars" - Reverchon building with Soli cars (Sold to The Skylon Tower)
`Car' Carousel - Mack (Used Automobiles Instead of Horses. Purchased from Crystal Beach)
36-Horse Carousel - Chance
"Dixie Dangler" Swing Ride - Princeton Machine (1 of only 2 built-Other went to Boblo Island near Windsor)
"Kiddie Ferris Wheel" (?)
"Fire Engines" - Mangles
"Giant Wheel" - Bakker Denies (53 Meters in Height 1979 Sold To an unknown location in Asia)
"Go-Gator" - Wisdom (Sold to Big-A Amusements. Later destroyed in a Fire)
"Gravitron" - Wisdom
"Jimmy's Auto" - home built using old pedal cars (Not in operation during the last season)
"Krazy Cars" - Inner-Tube Bumper Car Ride (Had not been in operation for the final 2 seasons.)
"Music Express" - Sirani Moser (Originally called "Lovers Lake" Went to Mexico)
"Rainbow" - Huss (Went to PNE in Vancouver, no longer there)
"Red Baron" - Allen Herschel centre, with Bradly & Kay planes
"Sea Dragon" - Chance (Pirate Ship Sold to a Carnival Operator in Nova Scotia)
"Scrambler" - Eli (replaced the Wipe Out in the last season when Wipe Out went to the CNE)
"Showboat" - Walk-Thru Fun House(not in operation in final 2 seasons)
"Spider" - Eyerly (Sold to a Carnival Operator in the U.S.)
"SR II" Simulator - Doron
"Tea Cups" - ? (Sold to Darien Lake, New York, now in storage)
"Tilt-A-Whirl" - Sellner (Sold to Big A Amusements- Toronto)
"Turbo" - Chance (Purchased from Campbell Amusements, sold to Conneaut Lake Park. Sold at auction and scrapped)
"Turtles" - Chambers Mfg (smaller version of the Tumble Bug - Sold to Magic Forest Park in Lake George NY).
"Kiddie Whip" - Mangels) (This may have come from Coney Island, NY)
"Wipe Out" - Chance(taken to CNE during the final months and replaced with the Scrambler)

List of the games that were in the park at the end of the final season:

Machine Gun
Whack-A-Mole
Skeeball
Watergun 1 & 2
Punk Rack
Basketball
Ring Toss
Whacky Wire